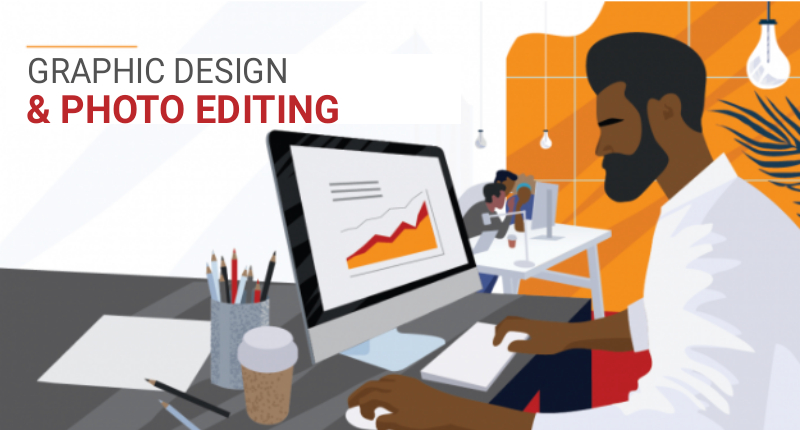 Graphic Design & Photo Editing
Learn Graphic Design & Photo Editing in Ogbomosho. Build well-sought computer/digital skills and get certified in no time.
The right tools for making pixel-perfect graphics and paper publications--desktop publishing. Trainees will be equipped with creative design and photo editing skills for creating high quality business standard designs. It is a perfect package for people working media units and those who want to make money from creative designs.
Course Outline
Basic Concepts of Computing
Word Processing [Microsoft Word]
Internet Operations
Desktop Publishing with Microsoft Publisher
CorelDraw for Graphic Design & Desktop Publishing
Photo Editing with Photoshop
Technopreneurship
Programme Code: GDPE
Duration: 12 weeks
Tuition Fee: ₦ 40,000.00 [$52.48]
Graphic Design & Photo Editing training in Ogbomosho. Get the required ICT skills for a digital world and reach your ICT proficiency and certification dreams in no time.
Related Courses
We offer you the opportunity to develop additional skills and develop your career in the industry with courses that are designed to help you acquire new skills with flexibility.
Graphic Design & Photo Editing in Ogbomosho. Build well-sought ICT skills, unlock a range of career options and maximize your employability with digital skills.
Why Waiting?
Do you want to explore technologies, methods, and evolving trends in computing? Then apply for one of the trending ICT training programmes such as web development, programming, machine learning, computer networking and network security, database design & administration, electronic accounting and more.
Why Tech Skills & Certification?